"The process of digitalization is often referred to as digital transformation. The focus of this digitization is anything and everything that intersects our business workflows and personal streams of life."
(The Digitization of the World – From Edge to Core (2018)
As we move further into industrial revolution 4.0, we are witnessing a fundamental change in how we live, work, and communicate. This next phase of industry is being driven by cloud computing, artificial intelligence, big data, the internet of things, blockchain, and of course—the people and cultures that shape the future.
The reality is that digital transformation is a never-ending journey that takes an organization-wide effort to achieve. While no single framework or set of guidelines will guarantee a winning strategy; lessons can be learned from the best practices of market leaders in the Healthcare, Finance, Security, Insurance, and Automotive sectors. This article will discuss key factors for launching and maintaining a successful digital transformation.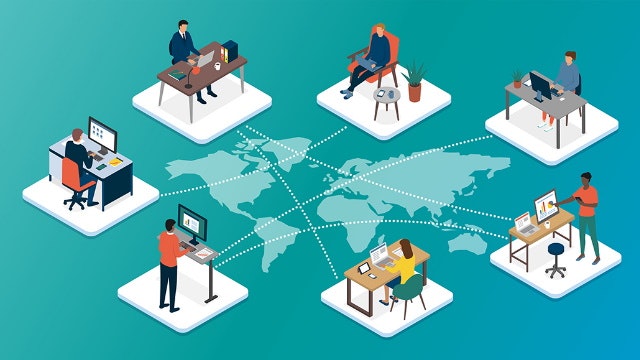 Everything is in Flux – Managing Digital Transformation
As Justin Trudeau put it, "The pace of change has never been this fast, yet it will never be this slow again."
Over the past 5 years, there have been developments beyond the predictions of artificial intelligence and machine learning, and today, systems with AI and advanced machine learning offer different solutions in every sector.
Both our biggest threats and our biggest opportunities come from the ramifications of digital transformation. There are many benefits, yet mastering adoption and implementation is a significant challenge for strategists and managers.
The following guidelines are distilled from a 5-phase roadmap created by Gartner's IT Roadmap for Digital Business Transformation (2021).The research is based on Gartner's "interactions with thousands of companies across various industries."
Ambition – Gaining Support for Initiatives
The tail doesn't often wag the dog, and digital transformation initiatives need strong support from senior executives, employees, and customers. This phase is largely about gaining support and generating interest from leaders in your organizations. Proper backing from senior management is paramount because success hinges heavily on funding for the proper tools and technology needed.
In large part, this is due to cultural readiness—"53% of the organizations surveyed remain untested in the face of digital challenge and their digital transformation readiness therefore uncertain." (IDC)
Design – Where do You Want to Go?
Design is mainly concerned with where you are and what you want to achieve. All the components that drive your strategy will be hashed out during the design phase. From application infrastructure design to go-to-market strategy, designing a plan to deliver products and services will further generate excitement and interest in the architecture. After having a blueprint mapped out, the next stage is to launch.
Deliver – How Are We Going to Get There?
Here's where proof of concept comes into play. Choosing the right test pilot programs is risky but necessary. The impact of these projects will determine the requirements needed to meet milestones and meet target KPIs. After test pilots are run for 3 months, frequent iterations (i.e. 1 to 2 weeks) can be carried out to determine further risks and find new opportunities.
Scale – How Can We Centralize Operations?
As new capabilities take shape, it's time to refine processes and optimize performance. Most organizations do this in segments across different business units. Most of the time, this means consulting with specialists outside the organization to suggest time viable improvements. Scaling could involve taking an omnichannel approach to marketing or centralizing resources in a single cloud repository with on-premise security.
Refine – How to Maintain Successful Transformation
Data analytic masters are the heroes of this phase. Finding meaningful patterns is a surprisingly intuitive skill that can make massive gains. As new capabilities add new value, new revenue streams, and new opportunities—data management becomes more and more important.
Digital Transformation Through Human Resources
The people are often the most important factor in success. We need systems that add value to their work lives, decrease turnover rates, increase loyalty, and aid productivity. Without the right tools, minor problems in the workflow can become major roadblocks if swept under the rug.
Creating a Culture of Change
Transforming a culture takes creativity and innovation. While, technology defines digital transformation, but the environment around the movement is perhaps the most ambiguous piece of the puzzle.
If all goes well, the biggest payoff of cultures open to change is that it attracts top talent and creates a halo effect around your organization. It's also priceless PR. This is a major undertaking with lots to be gained. Tech divisions at companies that lead the way such as Walmart, Amazon, and Gravity Payments, invest in their employees in a way that cascades that sentiment throughout the entire company.
How do they do it?
One way that Walmart goes about this is by investing in their employees.
Ongoing training programs
Upskilling employees on-the-job
Lateral movement within the company
Mentorship programs
Scholarships for continuing education
Celebrating cultural diversity and inclusivity
Product Selection
Tools defining the industrial revolution 4.0 focus on speed, efficiency, and flexibility. It takes the right technology to simplify tasks and increase efficiency.
One of these trends is the need to adopt a digitalized changing network environment. Especially with the increase in the number of employees and the time invested in human resources management. Solutions that give enterprises a way to survive beyond making a difference increase back-office proficiency in ways that save significant costs and create an interesting proposition for prospects who are thinking about joining your team.
Invest in the Infrastructure That Enhances Your Workforce
Although the initial cost of digital software to aid this process is considered a disadvantage, the costs decrease as observed in time saved. In fact, as software becomes more complex, rapid changes demand customization. Users need to adjust and it requires training. Many tasks related to training can be semi-automated to improve idle time and decrease costs lower the learning curve for both managers and users. Invest in a product that makes smarter use of your human resources and increases operations speed. Forget about long training sessions, let people learn at the speed of accomplishment to give them a boost and your company a greater efficiency.
Digital Transformation Using OnScreen
OnScreen allows training teams to create step-by-step guides that inform users in business processes where friction can occur. Integrating this "self-training" improves efficiency, user adoption, limits frustration, and can limit support requests and operational burden.
Learn More About Digital Transformation & User Adoption with OnScreen