Use this Salesforce Classic to Salesforce Lightning ultimate migration guide to know (and avoid) common migration and adoption issues.  
Change is never easy, and it's especially difficult in the workplace. People resist using new technology or software because they feel it creates more work for them: aside from completing their tasks, they now have to become familiar with the tools and platform.
That was the challenge many companies faced when they switched from Salesforce Classic to Salesforce Lighting. On paper, it was a logical upgrade, with better features and a supposedly easier user interface. The problem was cascading the information and getting everyone's buy in.  

Salesforce Classic vs Salesforce Lightning
The first thing people asked was, "What's the difference between the two platforms, anyway? If Classic works, why do we have to change it—if it ain't broke, why fix it?"
Salesforce Classic was the de facto version of the top CRM platform in the global market. While it worked, and was seen as a generally effective platform, the UI felt a bit outdated. It had text-centric orientation, a lot of white space, and minimal graphical components. The graphics were also presented in a low resolution, which added to its clunky, dated feel.  
Salesforce Lightning was introduced as an improvement on Salesforce Classic. It boasts of improved levels of productivity, added functionalities, and a more user friendly interface.
The first roll-out of Salesforce Lightning wasn't as smooth as was hoped, which fed the flames of resistance. But over the years, it has now come into its own. Bugs have been ironed out, and it has so many new features that are not available on Classic anymore. A study even showed that deploying Salesforce Lightning can result in an ROI of a staggering 341 percent within three years.
Here are some of the new features that have been incorporated into the platform:
Enhanced usability
A new app launcher

A utility bar

Ability to personalize home pages

Einstein Recommendations

More intuitive navigation

Easy access to tools like filters, workflows, etc.
Better Search
You can sort the search results based on your needs. On the other hand, the Instant Results function allows you to access records quickly.
Powerful tools for customization
Salesforce Lightning now allows developers to make new and customized apps – on either mobile or web implementations. You can even put your own branding on these apps.
Easier and faster implementation
Salesforce Lightning enhances usability especially for developers. One of its new abilities is to allow for agile transformation.
Admins make changes or improvements without any kind of coding or using Visualforce. In fact, it's all just drag and drop. They can also use custom templates, which make it easier to implement projects and lower the risk for conflicts and errors.
Of particular note in Salesforce Lightning's new features is the Einstein AI.  While it is available on both Classic and Lightning, it's implementation is so much more robust. It can automate processes like modeling or data prepping. This gives you the advantage of gaining more useful data and information that will benefit your departments.
Technical challenges of a Salesforce migration
While Salesforce Lightning has obvious advantages over Salesforce Classic, there are a number of challenges that make migration a daunting task — and none of them were included in the traditional Salesforce Classic to Salesforce Lightning ultimate migration guide.
Companies need to take these into consideration, and how it can affect their project timelines.
Customization challenges
Unfortunately, Salesforce Lightning isn't something you can use straight out of the box. Unlike Salesforce Classic, which was relatively easy to customize to the needs and demands of the organization, Salesforce Lightning had a new set of rules and features that developers needed to learn.
This led to issues when they were migrating to Lightning—especially if the migration was rushed, or proper training and briefing were not done. People were expected to simply adjust, without any Salesforce Classic to Salesforce Lightning ultimate migration guide.
That is the lesson for any kind of software migration: while a new program can improve or increase productivity, that can only be achieved with proper planning and impact analysis. There will always be a learning curve, and an expected drop in performance.
Poor migration can lead to decreased responsiveness of certain pages, increased load times, and even a more convoluted navigation. In some cases, data or formats can be lost.
The best way to work through migration problems
It is better to pause and do a proper impact analysis, then to "make waste in haste" by rushing forward without a plan and then having to clean up the errors after they occur. Your impact analysis can include questions like:
What customizations are we currently using in Classic?

Do we still need these customizations in Lighting? How long will it take to implement these custom components in Lightning?  

What out-of-the-box customizations can we already use?

Which customizations should we prioritize? What impact does it have on our business?

What do we need to do to optimize usage and performance, and who is in charge of finding these out?
Take this time to evaluate any unused components or bottlenecks, and do a general audit of your needs and your system. Then, you can move forward with a clearer idea of what you need, what to do, and how long it will take to do it.
Feature confusion
Salesforce Lightning boasts over 850 ways that an organization can boost its productivity. The challenge here is choosing which features will actually benefit you.
With the sheer number of features, there's a possibility that you'll choose features that won't do much for your organization. On the other hand, you might overlook features that can make the most impact to your operations and bottom line.
Obviously, this will need the input of the technical experts in your team. However, don't forget the valuable inputs you can get from end-users and other people whose work can be affected by the change. This should include key users and Subject Matter Experts (SMEs)  in Sales, Finance, Customer Service.
They may not be "technical' experts but from their daily experiences and business process knowledge, they can help you develop a list of criteria. 
Salesforce Training challenges
It's natural for people to feel anxious, skeptical, or uncomfortable with new features. So, for a smoother transition, be proactive about identifying possible concerns and needs.
Identify possible personas, based on their technical knowhow and proficiency, the impact on the migration on their work, and problems they may encounter. You can conduct initial focus group discussions, group huddles by department, or online surveys.
Gathering feedback not only informs you of how your people will feel about Salesforce Lightning, but also makes people feel they are heard—which is important in getting their buy-in and cooperation.  
From there, you can formulate the best training methods, and develop new processes or workflows. A blended training approach is recommended combining context knowledge with how to's based on your best practices. For the latter Digital Adoption Platforms like OnScreen help provide that learning directly in Salesforce in the flow of work and within the context of the process.
Pave the way for Smooth Migration with a Digital Adoption Platform
Migrating to Salesforce Lightning isn't just a technical issue: it's a process, productivity and a people issue. You need to plan it properly to avoid unnecessary delays and expensive downtimes.
But let's face it: there is typically little time left.
Teams find themselves mostly busy dealing with technical matters related to the migration or implementation. This unfortunately, takes away from planning or implementing a strategy to help ease employees' transition to Salesforce Lightning.
Your project team may even not be properly equipped to handle types of concerns. While focused on the technical aspects of migration, change management and onboarding is often left towards the end..
How Onscreen Digital Adoption Platform can help
That's where OnScreen can help. A digital adoption platform can remove the pain points during software migration or implementation—whether it's Salesforce, or any platform, app or website.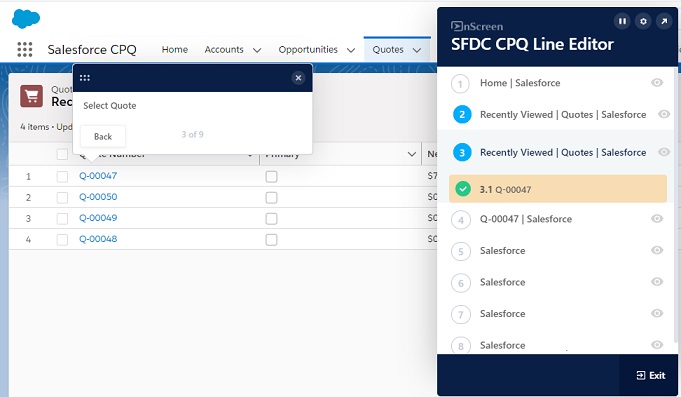 OnScreen is designed to enhance and simplify knowledge transfer and user experience. Online in-application walkthroughs created by your Subject Matter Experts (SME), process experts or trainers can be created and published to users in minutes. The OnScreen Digital Adoption Platform then can contextually adapt to a user's needs and "coach" them until they feel competent and confident — and in a faster and more intuitive way than any handbook, Standard operating procedure (SOP) or manual.
You can also collect and then analyze the usage patterns, and get a clear idea of the challenges that your people face as they use the new technology. It can inform your decisions about whether features work, or what workshops or training sessions you will need to implement.
The Onscreen Digital Adoption Platform can help reduce onboarding issues and delays, and relieve your project team of the burden of having to hand-hold users through the initial adjustment period.
Ultimately, it can also empower users to take the most advantage of the technology, increase their satisfaction, and improve overall workplace morale.
We hope this Salesforce Classic to Salesforce Lightning ultimate migration guide can help you further avoid migration problems. 
Download or print our Salesforce Lightning On-Boarding Checklist.
References
https://bleuwire.com/5-digital-adoption-challenges/
https://trainingmag.com/failure-to-launch-5-common-challenges-of-digital-transformation-adoption/