SAP Digital Transformation through User Adoption
Support your users to maximize productivity and boost engagement.
Bridge People, Process and Technology Seamlessly
Organizational change has accelerated rapidly. For today's most ambitious companies, digital transformation is the foundation of increased efficiency, agility, and overall performance.

Gartner reports that 75% of organizations fail to achieve expected business outcomes. User adoption is a major part of this, and has become a priority for forward thinking organizations looking for opportunities to improve.
Support Your Users from the Start
The OnScreen Digital Adoption Platform is designed for project teams implementing SAP or rolling out major changes to a green user base.

Support users when they need it most with in-ERP guidance.
Develop new OnScreen guides in minutes instead of weeks.

Support users when they need it most with in-ERP guidance.

Reduce support tickets and accelerate time to proficiency.
Address Training and Support Inefficiencies
OnScreen DAP shortens the release cycle and ensures user proficiency faster. Power users can develop and publish step-by-step guides directly in your Enterprise Application in less time than it takes with screenshots.
Empower users to solve complex problems
Speed up the time from go-live to proficiency
Reduce costs and boost user engagement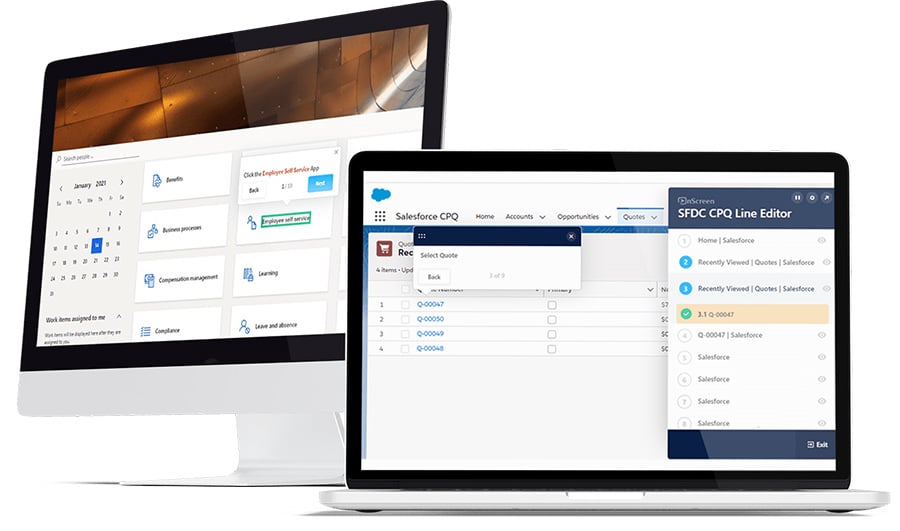 What is software adoption or digital adoption?
Digital adoption is the process of reaching a level of proficiency on a given technology that enables users to understand and effectively utilize it in their role, so organizations realize the technology's full capabilities and value. It is a crucial component of every job in every organizational team, and it is necessary for digital transformation to be successful. And digital adoption, like digital transformation, is a continuous process. There will always be new employees to onboard and new technologies to implement. Digital adoption, however, is more than end users simply knowing how to manage the minimum functionality of an application. It requires a level of understanding that allows organizations to extract the technology's "full capabilities and value." This is a key part of continuous workforce enablement, as helping end users to understand and utilize their technology to its fullest extent within their role is what makes organizations thrive in the digital economy.
What is a digital adoption platform?
A Digital Adoption Platform or DAP is software that runs on top of the enterprise technology that end users need training and support in, providing walkthrough guidance for process workflows that aid in accelerating and strengthening user adoption.
Digital adoption platforms increase efficiency and productivity by bringing lean and agile approaches to end user training and support.
Who should consider the OnScreen Digital Adoption Platform?
Project Management, Change Management and Learning and Development leaders who are planning or in the process of a software implementation or upgrade and business leaders with focus on Employee Experience and Digital Workplace Strategy looking to improve user productivity and achieve the highest return on investment (ROI) from their ERP and business applications.