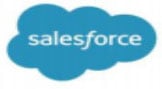 Custom Transactions
Supports any standard or custom tcode or table
No Server Install

Run on any Modern Browser
Smart Process Guides
In-Application help anytime, anywhere whether in the beginning or middle of a process

Responsive Way Finder
Screen Resolution independant. Run on a large monitor or Tablet.
Auto Advance
As the user completes each step in the task OnScreen help moves forward to the next step automatically

Link to LMS
Play Video or Audio Files
Multi-Language Support
Auto Process Capture
No-Code Business User Tool

Role and Group Support

Process Efficiency tracking
User Productivity Dashboard

OnScreen Usage Stats
Why thousands of users love OnScreen "People go through training and they say they get it but when it's time to do it it's a different story."
Lisa Ferrara
Global Head of SAP/BPC Technology at ContourGlobal
"We work with people with minimum to zero sap experience. Our goal is to train them and make them work in sap efficiently and independently. OnScreen lets us do just that."
Ina Ignatova
SAP Solutions Manager
"Rolling out S4HANA in Brazil we needed to train hundreds of managers on SAP to meet our Go Live, OnScreen helped us cut weeks of training"
Business Process Manager at CMOC International
"OnScreen helps our people keep up with the pace of change"
CIO, Manufacturing Company
"OnScreen enabled our trainers to record, edit and publish a guide in 27 minutes on first try instead of 5 days with uPerform"
SAP COE Director, Retail Manufacturer
"Our documentation was outdated for years, and we never had the time or resources to catch up. OnScreen step by step guides were so quick to develop and give us the ability to make small changes and publish them in an agile manner."
Training Manager, Pharmaceuticals
"We acquired 4 companies in the last 2 years and half which added to the complexity and divergence in business processes. OnScreen Helped us bring them into the fold."
Sr VP, Digital Transformation – Energy Company
"So glad our search is over! OnScreen enables our employees to be independent and able to easily navigate SAP on their own. "
Support Manager, Healthcare
OnScreen allows you to rapidly develop interactive guides on the SAP screen to help your business users complete any process frustration and error-free.
Execute
Run Through The Process Once as you intend it to be executed
Edit
Add Helpful Text in The Callouts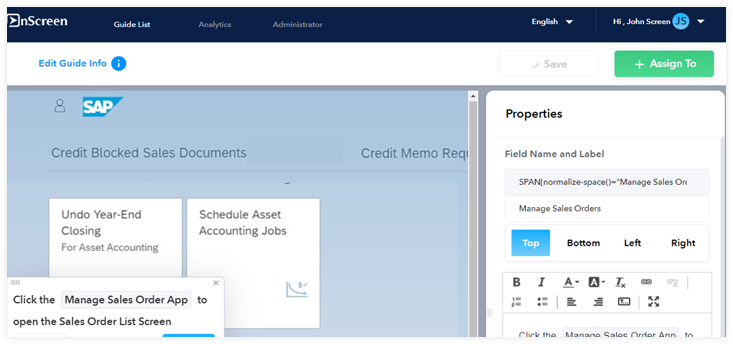 Publish
Assign to Users and Groups
Why Do You Need OnScreen?
Your enterprise can use app walkthrough capabilities to create a digital workplace and a resilient organization that welcomes and quickly adapts to change. 
Reduce Resistence to Change
Decrease Support Escalations
Accelerate Training Development